The word "lithromantic," coined by Ian (stopanthropomorphizingme on Tumblr) comes from the Greek word lithos, which means "stone." This is an allusion to the stone sexual identity, which originated with butch lesbians and transmasculine people.[1]
Like with any romantic orientation, lithromantic individuals can identify with any sexual orientation label.
Flags
Lithromantic has a few different flags, with the red-orange-yellow-white-black flag being the most popular.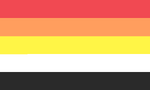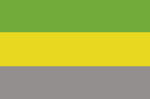 References